Welcome to the official Drifting Souls 2 Wiki

This is the wiki for the browser game "Drifting Souls 2". You can find here a lot of information about the game, e.g. about spaceships, the combat system or the writing roleplay. The world of Drifting Souls 2 is based on the history of the Freespace computer games from the 90s.
The game currently exists only in German
. Nevertheless, the game can also be played in English with some tools, see here


. Since the German community is much larger, the main German wiki is correspondingly more extensive and more current. Nevertheless, we welcome foreign players in our midst and are happy to help you get started.
Overview
We are happy about any objective criticism and new authors! Just sign up and help to expand the wiki!
Spoiler alert: The wiki contains information, knowledge of which can reduce the fun of the game and puzzles. Knowing it prevents you from solving puzzles, challenges and problems on your own. The use of the wiki should therefore be done consciously/responsibly in one's own interest.
About Drifting Souls 2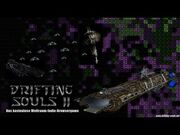 Drifting Souls 2 (DS2) is a complex building strategy game set in space and taking place in the future. The historical role-playing background of the game is the 90s computer games of the Freespace series. DS2 is completely free and all you need to play it is a browser and an active Internet connection.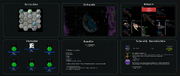 In DS2 you start on a barren asteroid, which you first have to develop and expand. In this part, DS2 resembles the well-known building strategy games like OGame, Tribes and Ikariam. But this is only a small part. In DS2 you can fly your ships over 2D star maps, equip them manually, control them individually and fight with them. You can join alliances and factions, trade and explore space. Whether you are a trader, a warrior, a hermit or a team player, whether you have a lot of time or not much: a player of any play style will feel at home. A special treat is also the writing role-playing game integrated into the game. Players can role-play in the so-called Com-Net, a universe-wide communication network. From a simple emergency call to an elaborate RPG episode, there is room for everyone who wants to let off steam creatively.
DS2 is programmed by volunteer developers since 2001. To this day, regular updates freshen up the game. Moreover, there are no boring, predictable NPC AIs, because the NPCs are controlled and managed by humans.
Get in your spaceship now and become a Vasudan pirate, Terran extremist, generous trader, pacifist communist or spiritual fundamentalist.
Go here to play: https://ds2.drifting-souls.net/